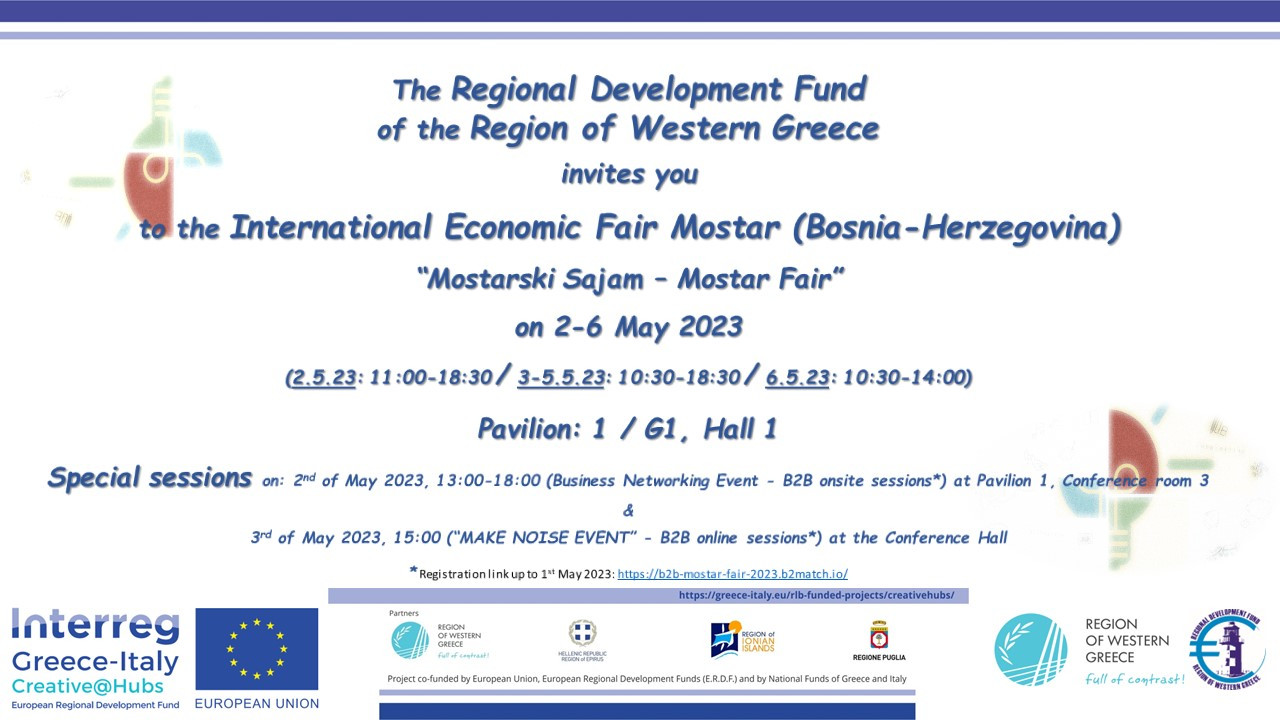 Posted on April 25,2023 Posted in Exhibitions
The purpose of its' participation is the promotion and networking of the 4 Creative Hubs active in the Region of Western Greece.
As part of the Creative@Hubs project of the European Territorial Cooperation Programme "Interreg V-A Greece-Italy 2014-2020", 4 Creative Hubs have been established (in Agrinio, Messolonghi, Patras and Pyrgos) while the completion works of the permanent Patras' Creative Hub at the former Agricultural School of Patras, have already begun and are expected to be finalized this summer.
Workshops-seminars, e-tools (Web 2.0), development of training material of 11 targeted thematic sections adapted to the needs of the local population of the creative industry sector, cross-border open innovation contest, program exchange of the Hubs' Managers, B2B missions of creative SMEs in Greece and Italy, are just some of the actions of the Project in the Region of Western Greece.
During the Exhibition in Mostar (May 2-6, 2023), the public will have the opportunity to get to know the 4 Creative Hubs that are active in the Region of Western Greece, while there will be an opportunity for networking with other creative Hubs and B2B meetings for creative SMEs.
In addition, the Chamber of Aetoloakarnania will organize on Tuesday (May 2, 2023, from 13:00-18:00, at Pavilion 1 - Conference room 3) an event focused on B2B SMEs' networking meetings and on Wednesday (May 2-3, 2023, at 15:00, at the Conference Hall) a "Make Noise Event".
Meet us at Pavilion: 1 / G1, Hall 1
Register for B2B here (2-5-2023 on-site & 3-5-2023 on-line) until May 1st, 2023.
The Creative@Hubs project – Interreg V-A Greece-Italy 2014-2020 involves four partners: Region of Western Greece – Regional Development Fund (lead), Region of Epirus, Region of Ionian Islands and Puglia Region. In the context of a programmatic agreement with the Region of Western Greece, the following organizations also participate: the CTI "DIOFANTOS", the three Chambers of Commerce of the Region of Western Greece (Aetoloakarnania, Achaia, Helia) and the Regional Development Institute - Panteion University.
For more information, visit the project website: https://greece-italy.eu/rlb-funded-projects/creativehubs/
Posted on April 25,2023 Tags #Interreg_V_A_Greece_Italy #Interregreeceitaly #Interregproject #EUprojects #Creative_Hubs

The Creative Hubs Web Platform is part of the Creative@Hubs project whose main objective is to establish an increased synergy between creative industries and Public authorities in order to contribute the capability of regions to create new knowledge and to generate innovation. The Creative@Hubs project is part of the Interreg Greece-Italy program. For more information visit Interreg Greece-Italy