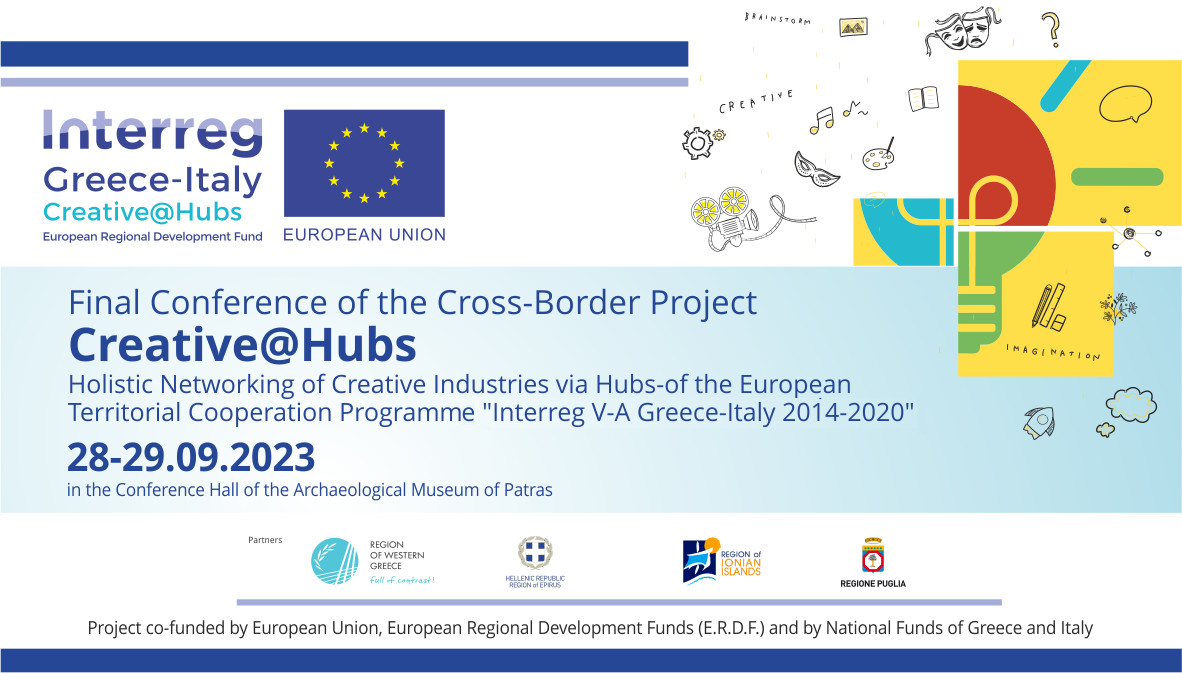 Posted on September 26,2023 Posted in Final Conference
The Regional Development Fund of the Region of Western Greece is organizing the Final Conference of the Creative@Hubs project of the European Territorial Cooperation Program "Interreg V-A Greece-Italy 2014-2020", on September 28-29, 2023, in the Amphitheater of the New Archaeological Museum of Patras (N.E.O. Patron-Athinon 38-40, Patras).
As part of the project, 9 Creative Hubs are created, as collaborative spaces, addressed to: small and medium enterprises, creators, artists and organizations of the cultural and creative sector, in Greece and Italy.
During the 4-year implementation of the Creative@Hubs project, actions were carried out such as: the creation of asynchronous training materials, targeted workshops-seminars, info days, events, the creation of an electronic platform with information technology and communication technology (ICT) tools, exchanges of know-how of hub managers , B2B networking missions, participation in international exhibitions, organization of an international festival of creative industries as well as the development of a sustainability plan of the hubs.
During the 2-day event of the conference, specialist scientists and experts will make presentations in fields such as:
- Social and environmental impacts of collaborative workplaces
- Collaborative workplaces and social innovation processes in rural areas
- Local creative ecosystems, employment and the role of nodes
- Collaborative workplaces in non-urban areas
- Combining creativity and rural development
- Entrepreneurship & Innovation Ecosystems etc.
The keynote speaker of the Final Conference is the Professor of Marketing at the University of Macedonia, Department of Balkan Slavic and Oriental Studies, Mr. Anastasios Panopoulos.
Find the invitation and the agenda.
Register here.
Watch livestreaming in EN-GR-IT.
The Creative@Hubs – Interreg V-A Greece-Italy project involves four partners: Region of Western Greece – Regional Development Fund (lead), Region of Epirus, Region of Ionian Islands and Region of Apulia. In the context of a programmatic agreement with the Region of Western Greece, the following partners also participate: CTI "DIOFANTOS", the three Chambers of Commerce of the Region of Western Greece (Aetoloakarnania, Achaia, Helia) and the Institute of Regional Development - Panteion University.
For more information, visit the project website: https://2014-2020.greece-italy.eu/rlb-funded-projects/creativehubs/
Posted on September 26,2023 Tags #Interreg_V_A_Greece_Italy #Interregreeceitaly #Interregproject #EUprojects #Creative_Hubs

La piattaforma Web Creative@Hubs fa parte del progetto Creative@Hubs il cui obiettivo principale è stabilire una maggiore sinergia tra le industrie creative e le autorità pubbliche al fine di contribuire alla capacità delle regioni di creare nuova conoscenza e generare innovazione. Il progetto Creative@Hubs fa parte del programma Interreg Grecia-Italia. Per maggiori informazioni visita Interreg Greece-Italy