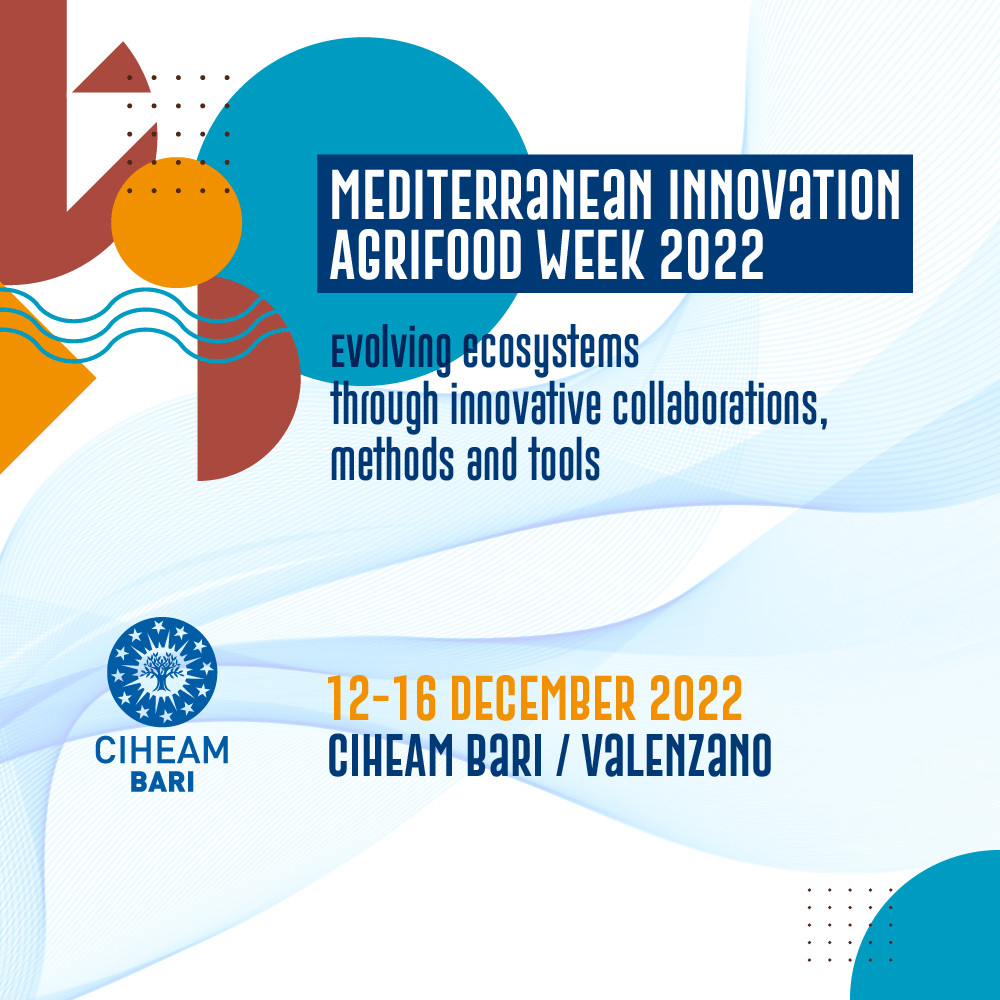 Posted on December 07,2022 Posted in Events
Debates, B2B, training seminars for young innovation hub managers, international conferences; experts, representatives of international organisations; 50 start-ups and companies from 10 Mediterranean countries: these are some of the highlights of the second edition of the Mediterranean Innovation Agrifood Week scheduled from 12 to 16 December at the Mediterranean Agronomic Institute CIHEAM Bari at Cosimo Lacirignola Campus.
The protagonist of the event will be the Strategic Action of the Interreg V-A Programme, Creative@Hubs, coordinated in Puglia by the Department of Agriculture, Rural and Environmental Development and implemented by a territorial network in which CIHEAM Bari is one of the collaborating bodies.
The main topic of discussion will focus on cooperation for innovation in the Mediterranean agri-food sector: an evolving ecosystem.
Numerous activities will engage the CREATIVE@HUBS project partners during the Mediterranean Innovation Agrifood Week. The event will start with an International seminar for hub managers that will focus on providing key skills for managing hybrid innovation spaces and will take place in Valenzano at the CIHEAM Bari headquarters on 14 and 15 December. This will be followed by a study visit mission planned in Bari from 14 to 16 December, which will take the Greek and Italian managers of the 8 creative hubs created through the project to visit various public spaces dedicated to coworking and creativity in the cultural and creative industries. On 15 afternoon, from 3.30 p.m. at CIHEAM BARI (Valenzano), B2B meetings are scheduled between Greek, Apulian and other Mediterranean cultural, creative and agri-food companies. The B2B will be introduced by Mr. Panagiotis Zaragas, from the Commercial Section of the Greek Embassy in Rome.
Companies from Puglia wishing to take part in the initiative can still register at the following link: https://events.iamb.it/p/event/b2bevent.
Finally, on 16 December, at 10 a.m., the concluding international event Cooperating for Mediterranean Innovation in Agrifood will take place, during which nine representatives of international organisations will exchange views.
For more information and full programme: CIHEAM Bari - One event (iamb.it)
Find HERE the Italian and Greek versions of the article.
Posted on December 07,2022 Tags #Interreg_V_A_Greece_Italy #Interregreeceitaly #Interregproject #EUprojects #Creative_Hubs

The Creative Hubs Web Platform is part of the Creative@Hubs project whose main objective is to establish an increased synergy between creative industries and Public authorities in order to contribute the capability of regions to create new knowledge and to generate innovation. The Creative@Hubs project is part of the Interreg Greece-Italy program. For more information visit Interreg Greece-Italy